---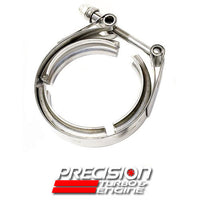 Making sure you have the proper clamp mated to your turbo shouldn't be an afterthought. To help facilitate installation and removal, make sure you use genuine Precision Turbo & Engine V-Band or T-Bolt clamps.
This PTE V-Band Clamp features the following:
Provides a uniform, positive seal
Manufactured from durable, corrosion resistant stainless steel
Recommended V-Band clamp for GT42/GT45 style turbine housings with a 4 5/8" V-Band discharge
Don't waste your energy struggling with a lesser quality part. Precision's clamps are designed to save you time and money!