---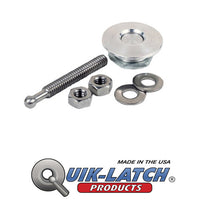 The Quik-Latch mini latches are of the same basic design as our larger hood pin sets, but scaled down and significantly cheaper. In addition with the ability to function as hood pins, our new Mini Latches have multiple applications for which they could be utilized, even outside the realm of automotive customization. That is the real advantage of the Quik-Latch mini- its versatility. Our customers have used them on street rods, dedicated drag race cars, cabinets, custom enclosures, remote control model airplanes, and go carts, to name a few. There are probably customers out there who have found applications that we don't even know about yet. If you have something that needs to open and close repeatedly that also needs to be securely latched, a Quik-Latch mini could most likely be adapted.
The Quik-Latch mini latch is a push button latch roughly larger in diameter than a quarter. It is incredibly strong for its size as well, as it can withstand a pulling force of 150 pounds before experiencing failure. The latches have been approved by the NHRA for use in drag racing competition, which lends credibility for how strong and durable the latches are.
The Quik-Latch mini latches are made of T-6 aluminum and stainless steel, which resists corrosion. They can also be painted or powder coated if a customer so desires. Last, but not least, the latches are manufactured to the highest of standards in the United States.
Part #QL-25-S
Dimensions
Diameter of latch body: 1.23 inches (32mm)
Length of latch body: 0.57 inches (15mm)
Length of mounting stud: 2.13 inches (54mm)
Add-on the Mini Latch Assist spring for extra help in positioning and securing your application by taking out extra slack.
Some applications include but are not limited to:
Hood Pins
Panel Faster
Glove box lock
Pop-up Panels
Bumper or Body Panel Secure
...and the list goes on