---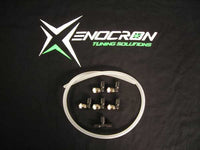 This is the perfect solution for someone wanting to cleanly install a PWM Boost solenoid without a mess of rubber line and barbed fittings. This kit includes the fittings necessary for a standard (single) external wastegate install along with a length of polypropylene tubing to connect it all.
The tubing included in this kit has a tensile strength of 4700psi, and a max temperature of 200 degrees Fahrenheit. The tubing has an OD of 1/4" with an ID of 1/8".


Included in this kit are the following components:

- (5) 90 degree nylon/nickel-plated brass swivel push-connect fittings (1/8" NPT)
- (1) Nylon push-connect tee
- (1) 10ft length of tubing (additional tubing can be added using the drop-down menu above)


Please determine the amount of tubing you need before ordering. Solenoid placement and other factors can effect how much tubing your setup will require, and you may need more tubing than the standard amount.

If you do not already have a PWM boost solenoid, one can be easily added to this order at a discounted rate using the drop-down menu above.



The above picture is just for reference, the piece of tubing in the picture is much shorter than the one you will receive.