---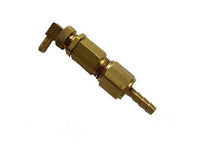 Sale
This is our popular manual boost controller. It can be used with internal and external wastegates to increase boost up to approximately twice the spring pressure or internal gate setting. In some instances you may be able to boost higher.
This is an extremely stable boost controller and easy to use. Once you dial in your intended boost pressure, just tighten the lock nut and forget about it!
This boost controller will help decrease spool times as well resulting in a better powerband even if used at near the same PSI as the wastegate is activated by the stock spring.
Setup is easy, just install a boost/vaccum source to the bottom of the boost controller and then another vacuum line from the top of the MBC to the internal or external wastegate.