---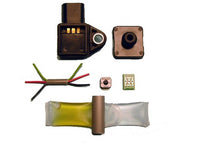 Sale
This is our BRAND NEW DIY Stock Map Sensor Housing kit for the K Series tuning enthusiast.
The package includes the following pieces:
K Series Map Sensor casing (top/bottom)
Your choice of Motorola 2.5 or 4.0 bar Map Sensor
Circuit Board for the pressure sensor
Small 18g wire (red, black & green)
Special High Quality Glue for securing the two halves
Instructions
This unit when assembled will fit the stock map sensor location on the K Series and plug into the factory wiring.
Will work with any Engine Management system where you can configure your own Map Sensor settings. There is built in native support within Hondata (4 bar) for these Motorola sensors...if you need the settings, please check out our Tech Center, we will post the values there.