---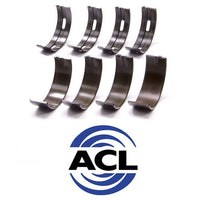 ACL RACE bearings have been the standard in the import world for many years. Xenocron tuning is happy to have a good amount of ACL bearings on hand, but feel free to contact us to check our stock as these bearings go fast...
This item is a set of STANDARD SIZE main bearings only, rod bearings and thrust washers are available separately.
If you need bearings for any other applications feel free to contact us.

Fitment for this set is as follows:
5M1959H - B16A2, B17A1, B18A1/B18B2, B18C1 VTEC, B18C5 VTEC, B20B, B20Z, K20A3, K20A2, K24A
5M1913H - F20C
5M1957H - D16Z/D16A1, 97-01 H22A4,  98+ F23A
Adding "X" at the end of the part # signifies Extra Clearance bearings