---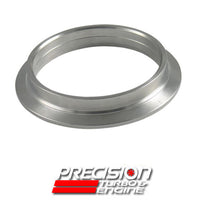 No matter what sort of flange you may need, Precision Turbo and Engine has got the right part for the job. We carry a full line of turbine inlet flanges, turbine discharge weld flanges, oil drain flanges and compressor cover discharge flanges.
Fits GT42 and GT45 turbine housings with a 4 5/8" turbine discharge
Manufactured from stainless steel
Why bother with cheaper quality flanges that may crack or not seal correctly? Trust Precision to correctly supply the best flange for your project.